Today I'm turning it over to my associate, John, for a report on the past Saturday's Brew-Ha-Ha in Indianapolis. Wish I could have gone this year ...
----
By John Campbell
Jared, Tony, and I loaded up the Sweet Chrysler rental ride last Saturday and headed north for the annual Indy Brew-Ha-Ha. The Brew-Ha-Ha is an incredible block party and craft beer festival in the heart of Indy's Mass(achusetts) Avenue Arts District. It is also an annual fundraiser for the Phoenix Theater and a great excuse for us to hang out with our friends and fellow beer enthusiasts in Indianapolis.
We left early so we could stop for lunch at Oaken Barrel in Greenwood. As usual, the food was good, the beer was good, and the atmosphere was just what we needed to relax before the show. I had a Hommel Bier, something I'd never seen brewed there before. It was a refreshing change of pace from the standard American microbrew fare. Tony had the Snake Pit Porter and still swears our 15B is better than any other Porter in the world. Jared had the Superfly IPA, 100+ IBUs = happiness in a glass.
We arrived on time (really, we did), set up our brand new easy-up tent, tapped the kegs, hung some banners, and commenced drinking.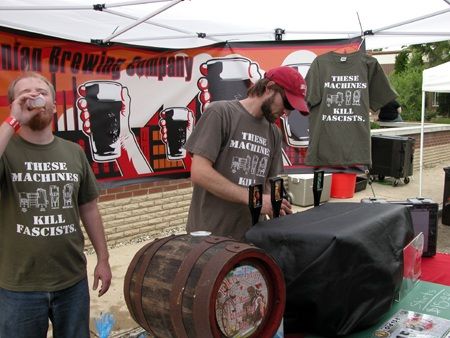 I grabbed my camera and headed out to annoy as many people as possible. It didn't take long. I was taking a few photos of our "A New World Is Possible" banner - one of Tony's many artistic endeavors - when I was stopped by a few of the festival volunteers (shown below at left) asking why I was taking pictures of the police cars and what my "These Machines Kill Fascists" shirt meant.
"Are you a political activist or something?" they asked in a most bothered way. After I explained that I was with the New Albanian Brewery and what the shirt means to us, they smiled, laughed, and we had a beer.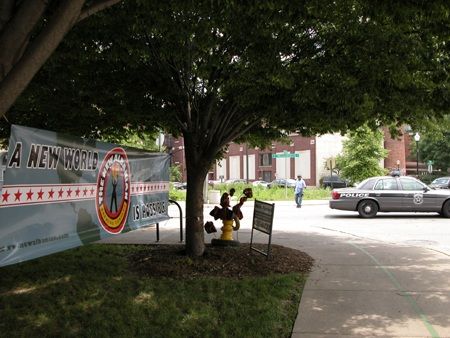 The gates opened, the crowd flooded in, and the rain began. We were happy to have a tent. Luckily, the shower was brief and kind of invigorating. The sun came out and the rest of the day was beautiful. The people at the festival were just the kind of crowd we like: educated, unbiased, craft beer supporters that truly appreciate what we do. Often is the case at festivals that we spend much of the day saying, "I'm sorry, we don't have any light beer. The booth over there has a great wheat beer. You'll love it. Next!"
Less than 10 minutes after I was detained for questionable camera activity, a wonderful lady (below) stopped her husband and said "Oh, look," pointing at our t-shirts for sale. It's like the Woody Guthrie thing." Ding! Ding! Ding! We had a winner! She truly earned the first free t-shirt of the day. It turned out that her husband (also shown below) plays in an acoustic band and would love to play at our brewery. "We'll play as left as you'll let us," he said. We'll be seeing them again.
Many of our friends were there: John Hill, owner of Broad Ripple Brew Pub (Indiana's first and oldest operating microbrewery), Jeff Eaton and his Barley Island gang, Veronica from Bell's Brewery, Mat Gerdenich (below) with his motley crew of Cavalier Distributing guys, Aaron from Stone Brewery, Christian from Two Brothers, and many, many others.
We took a pin of Flat Tyre that Jesse (our other brewer) and Jared had been aging in an oak J.W. Lee's Harvest Ale Calvados Cask for three months (below). I think they wanted to age it a little longer but, as Jared put it, "What the hell." We knew it would go fast, so we decided to wait until 4:30 to knock the bung out. As predicted: gone in 19 minutes. I had about 2 ounces and it was perfect. It had taken on enough of the barrel to show the apple brandy tartness and a hint of oak. Keep tabs on our upcoming festivals, and don't miss out; you never know what Jared has hiding in the cellar. We'll always try to bring something special.
Phoenix, our Kentucky Kommon, was the first keg to blow, followed by 15-B, Hoptimus and Elector. Fortunately, Jared brought an extra keg of Hoptimus so we ended the day on the right note.
All in all, the Indy Brew-Ha-Ha was a tremendous success. We can't wait to do it again next year. And, above all, we want to thank our ever-growing army of New Albanian loyalists. We do this for you!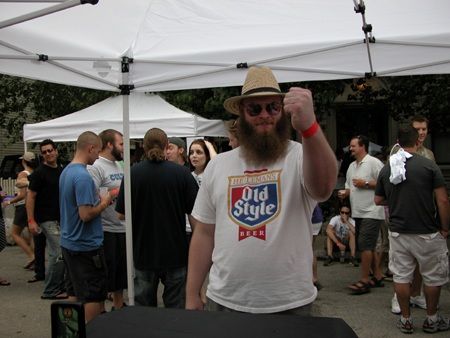 Sweet Chrysler, comin' for to carry me home.